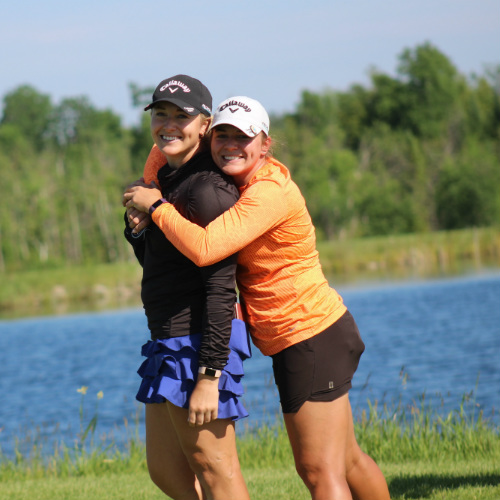 Former Holston Hills intern AJ Newell reminisces on her time at the club.
AJ Newell was a little out of breath when I caught up with her for an interview.
"Sorry," she says. "We were on the course and got rained out, so I decided to squeeze in a gym workout."
Such is life for a pro on the LPGA Tour.
But before her current eight-week jaunt on the road, and before joining the ranks of the LPGA, Newell enjoyed a slower-paced period of life as a golf operations intern at Holston Hills Country Club in Knoxville.
"AJ reached out to me shortly after she graduated from the University of Tennessee and was looking to make her way back to Knoxville," recounts Holston Hills Director of Golf Chris Dibble. "I thought it would be great to have a female golfer on staff and knew that members would gravitate to her as a good player. AJ displayed an incredible work ethic and took time to play with the members whenever she could. In her short time at the club, she made a lasting impression."
Though she grew up in Tampa, Florida, both of Newell's parents attended UT – her Dad threw shot and discus for the Volunteers. Their eldest daughter however didn't necessarily have her heart set on attending her parents' alma mater.
"I'm a bit of a homebody so the idea of going to college so far away from family didn't appeal to me at first," she remembers. But that all changed after a campus tour.
"It was fall when I visited and I absolutely fell in love with Knoxville. The beautiful scenery and something about it being football season added an energy to the city. It was an easy decision for me to attend the University of Tennessee."
A few years later, her younger sister Anna would join Newell to play golf for the Lady Volunteers during Newell's senior year.
"That year is probably my favorite memory of golf. I was recovering from back surgery so Anna helped me through that, and I in-turn helped her adjust to college during her freshman year. I won my first college tournament that year and we were both All-Americans."
Supporting and encouraging an interest in golf is important to Newell. "I had so many women that mentored me and helped grow my interest in golf. The game has opened many doors for me and it's made me a more comfortable person in talking to people and relationship building."
During her time at Holston Hills, Newell helped with Kid's Night Out events where she talked up the sport to the club's youngest members — most of whom hadn't yet taken an interest.
"It's so much bigger than just working at a club," she says. "It's truly making a difference in someone's life, and to be able to influence a young person."
With 12-year-old Anna Claire Gibson, Newell made a lasting connection and to this day sends her postcards from every city she visits on the Tour.
"I happened to be in Hilton Head recently and knew the Gibson family was also in the area," she says. "I was able to surprise Anna Claire in person. She was so happy that she cried!"
While Newell may have passed through the ranks of McConnell Golf employees rather quickly, the club will always have a place in her heart.
"I miss Holston Hills, it was such a family there. Chris really made me feel like part of the team, and it was an environment that supported me every step of the way. Several staff and members would text me encouragement before tournaments, and I still keep in touch with many of them. I feel like I could stop by any day and it would be like I never left."