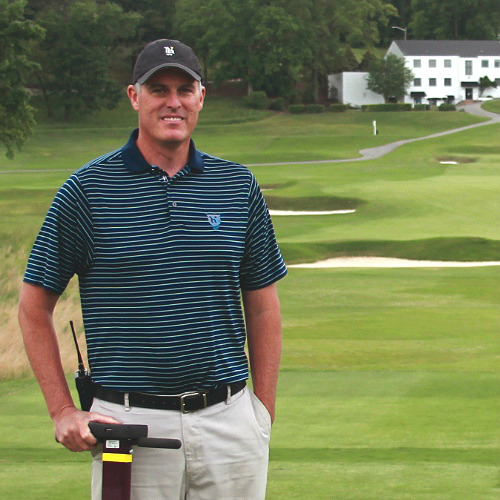 When discussing the golf course at Holston Hills Country Club with Superintendent Ryan Blair, the first word that comes to mind is passion. After serving more than 18 years as the man responsible for keeping the greens and golf course in top condition, Blair enjoys coming to work every day and feels truly blessed to do what he loves as a career.
Ryan began working in the golf course industry as a freshman in high school at this hometown club, Dayton Golf and Country Club in Evensville, Tennessee, about an hour and half southwest of Holston Hills. He played on the golf team in high school and worked on the course each summer.
After high school, Ryan attended Chattanooga State Community College and continued working at private clubs. His work included a stint at the prestigious Honors Course just north of Chattanooga, under the tutelage of David Stone. "It was there that I was introduced to a totally different view of golf courses and the opportunities available to those who were willing to work," Blair says.
Blair then transferred from Chattanooga State to the University of Tennessee to pursue a four-year degree, and was fortunate enough to begin working under Chris Sykes, then the new superintendent at Cherokee Country Club in Knoxville.
"I had the opportunity to return to the Honors Course, but going to Cherokee and working with Mr. Sykes was one of the best decisions I have made," says Ryan. "It gave me the opportunity to be involved with every aspect of the course as Sykes and I built a staff from four people and totally changed the course. I was fortunate to be involved in so many aspects of the course while at Cherokee, and that is the experience that paved the way for me to come to Holston Hills.
"While at Cherokee, I had the opportunity to learn about design as they were in the early process of picking an architect to draft a master plan for the course," according to Blair. "I was so involved with the architects and design side that when I came to Holston I was ready to take on the challenge to restore the course to its traditional architecture design."
"I also got to be heavily involved in all aspects, not only in turf but also in how the course operated. From budgeting to board meetings, for a guy right out of school, I was pushed right into everything. It was a real crash course," says Blair. "Sykes was a great mentor and we still talk all the time. I was his first assistant to move into a superintendent position, and I can think of another five or six guys around Knoxville that got their start working with Sykes as well."
Blair's favorite thing about not just Holston Hills, but the job in general, is the opportunity to both teach and learn every day.
"Each day is different and there is by no means a guarantee in anything. I always love looking over the course at the end of the day and seeing all the things that we have accomplished. I have seen many sunsets and sunrises over the years and every time I am amazed at the beauty of nature."