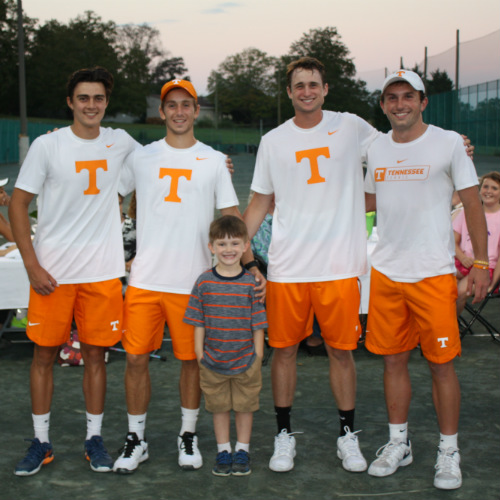 Game, set, dinner!
Exhibition matches have long been a celebrated occasion across the tennis facilities of McConnell Golf; however starting last year, a new twist was added — members can enjoy great food, service, and entertainment right on the court.
"What can be better than dining under the stars while watching local collegiate and professional tennis players compete?" asks Kyle Thortsen, director of tennis operations. "These Dining on the Courts events are a night for the entire family to enjoy."
Likely the most competitive tennis-and-dinner combo took place in Knoxville. The main event included the University of Tennessee tennis teams playing, which brought a large crowd of Volunteer fans – including the most excited person to be there, Rachel Waddell's son Corbin, who got to be the ball boy.
"The dinner on the courts was a very fun evening," says Waddell. "The food and decor was wonderful, and watching the teams play was a highlight of the night. Corbin was so excited to be the ball boy — he just had tennis camp at the club a few weeks before! He really enjoyed the camp, and watching the University of Tennessee tennis teams made him want to play more."